Challenge
The development of technologies makes telecommunication companies look for solutions enabling automation and synergy between newly developed hardware and existing software. New communication technologies (like 5G) as well as new equipment for power or signal level control, etc. are being introduced. It leads to high cost of implementation of old software on new hardware.
One more modern challenge for telecommunications is the complete absence of unification of passive infrastructure with a perfect and limited set of active infrastructure.
Moreover, existing online asset management solutions include necessary information for task or lease management, etc., but they lack direct references of the exact equipment (online review of assets during scan) or/and photo/video/3D. Customer relationship management systems extended with 3D, GEO data, models, point cloud, etc. could bring asset management to a new level of convenience and sustainability.
Technology solution
Open Cascade Platform tailored to Telecommunication industry augments the existing asset management software by enriching it with 3D, simulations, analysis, virtual instructions and inspections, etc. using in-field acquired data for hybrid digital data management.
Aggregation, storage, intelligent integration, and advanced visualization of the data from a single accessible source of truth allows building a sustainable information model of the towers enabling situation awareness and decision making in real time.
Smart integration with assets, tasks, information management, 3D gathering, and other partner solutions provides a scalable approach to the entire tower lifecycle, allowing engineers to analyze data confidently with visual validation and analytical reporting.
The use of 3D in asset management systems adds functionality that was previously unavailable, for example, checking the consistency of information, verification of the equipment amount through 3D scan analysis, etc.
Web-based software solution for quick access to realistic up to date 3D hybrid digital mockup enables collaborative and iterative work on complex projects on creating and modifying telecommunication facilities. The access to data is provided to all team members from any devices.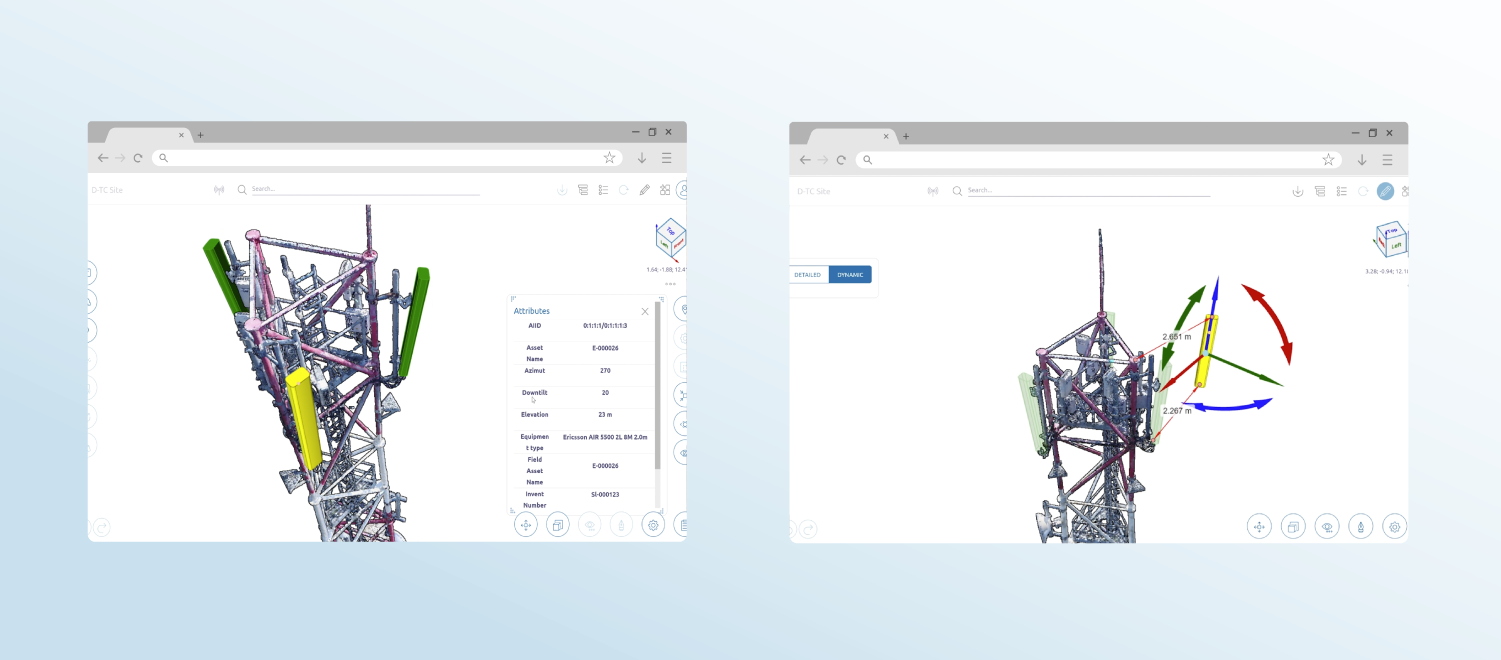 Business value
Open Cascade solution for supporting asset management in telecommunication industry makes information management workflow better operational for faster decision-making. Coherent digital model that can be used remotely allows reducing costs and number of field visits. The possibility of automated inventory checks versus real world data helps identifying missed invoicing. Convenient and reliable visual computer-added simulation capacities boost upsale of new antennas.