Still seeking for a "digital glue" that will help you solve your digital transformation tasks in a fully integrated way? Do you already have all those powerful enterprise systems in place and still have gaps in your model-based workflows? We, at Open Cascade, have a solution for you.
Being for many years a noticeable player on 3D solutions market and the original developer of its widely-known open-source modeling CAD kernel, Open Cascade gained a lot of experience in 3D data continuity and integration. The company now capitalizes its "know-how" as a permanently evolving Commercial Platform and invites you to enjoy its excellence in your digital solutions.
Having the Commercial Platform at hand — a unified technology which as a backbone connects all the variety of proprietary CAD, CAM, CAE software functionalities, makes it possible for Open Cascade to drastically speed-up the development process and at the same time keep high maintainability of the delivered end-to-end solutions. Thanks to this launching pad we can create almost everything: from standalone mobile and desktop applications to enterprise solutions and software deployed in the cloud. The scheme below illustrates how we create added-value solutions for our clients using Open Cascade Commercial Platform.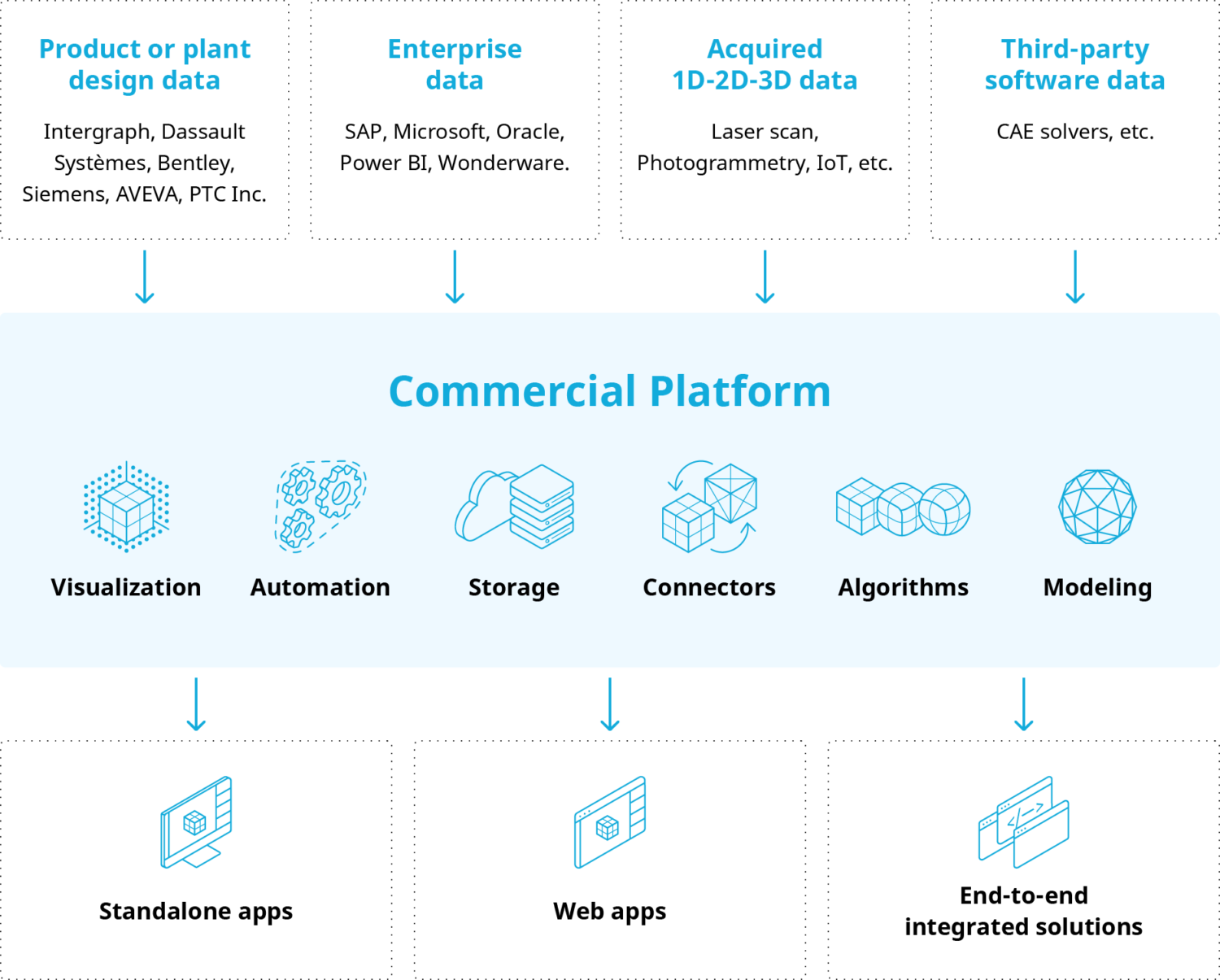 The top layer of the scheme represents input or source data which can be easily processed and utilized by the platform while creating integrated or end-to-end solutions for various downstream uses.
The middle layer straightly refers to Open Cascade Commercial Platform. Integral part of the platform is our proprietary open-source 3D core technology.
In most cases it is used as a baseline when we bring value to our clients.
The platform itself has a classical set of professional 3D services such as visualization, precise modeling algorithms and 3D data exchange.
In addition, it has cutting-edge services required for the 21st century digital applications: scalable kernel to store and virtually modify hybrid 3D data (a base for enterprise systems and digital twins), fluent visualization of extra-large 3D via web, collaborative features, batch automations, web-enabled simulation features and many others.
And the bottom layer shows the types of solutions that can be delivered to customers.
The Commercial Platform modules are listed below: